Jo Laut Ke Ghar Na Aaye – A Tribute to our COVID Warriors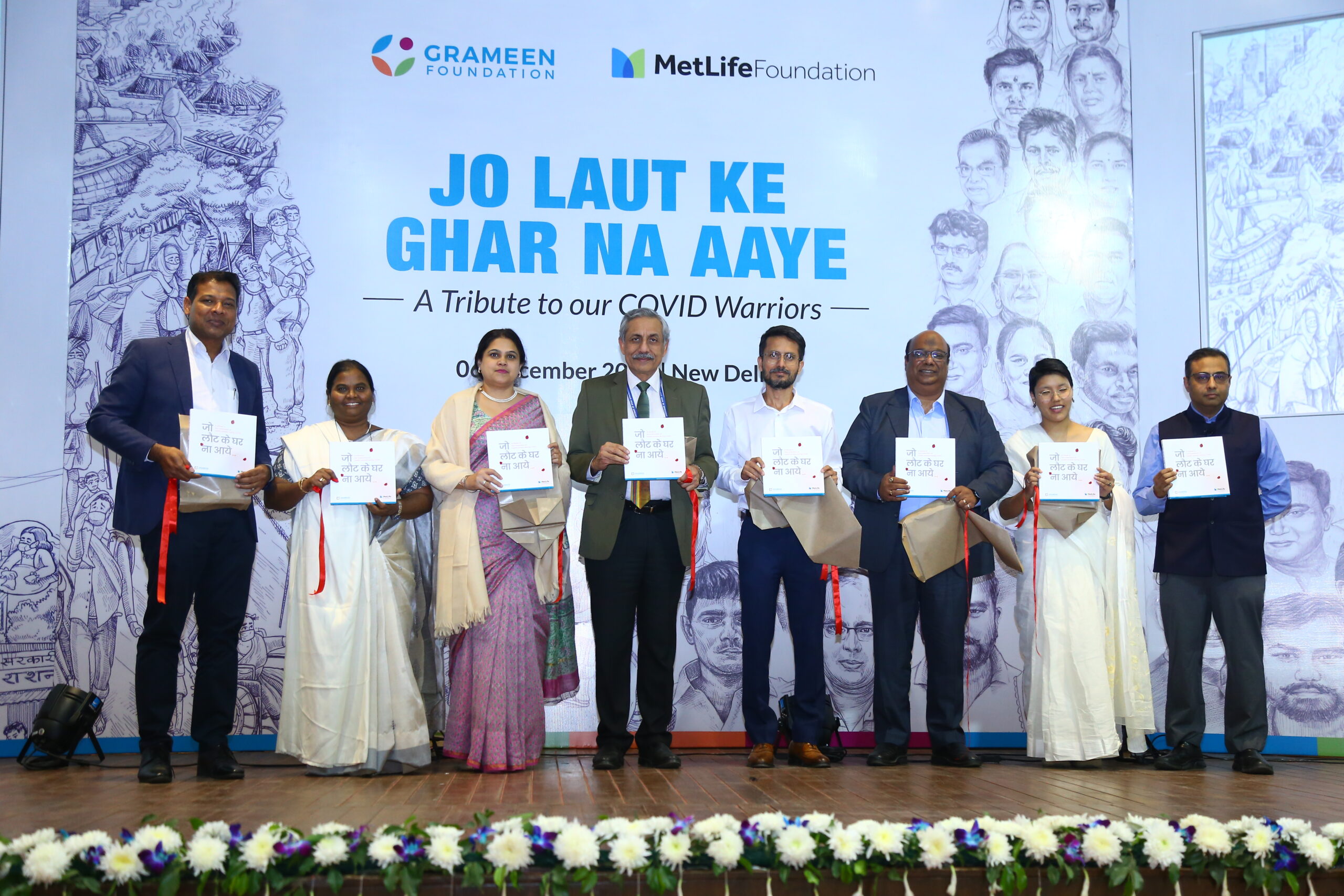 With generous support from MetLife Foundation, Grameen Foundation for Social Impact (GFSI) organized an event 'Jo Laut Ke Ghar Na Aaye (जो लौट के घर ना आये)- A Tribute to our COVID Warriors' under the 'Grameen Cares' initiative, today (December 6, 2022) at Vishwa Yuvak Kendra, New Delhi to recognize the supreme sacrifice made by the healthcare workers during the last three years of the COVID-19 pandemic and pay homage to them. A book documenting the heroic stories of some of these health workers from the states of Uttar Pradesh, Maharashtra, Gujarat and Delhi was unveiled at the event.
The initiative 'Grameen Cares' identified these COVID warriors working in different parts of the healthcare system, including doctors, nurses, paramedic staff, diagnostic and technical staff, pharmacist, ambulance drivers and other support staff, all of whom are critical to keep the healthcare services running 24×7. Many healthcare workers who served the COVID-19 patients also got affected and ended up sacrificing their lives in the line of duty. This initiative extended a small of support to the families of these COVID warriors to demonstrates our gratitude and solidarity with the affected households, who are struggling to come to terms with the loss of a key pillar of their family and the only earning member in many cases.
Dr. Raj K. Manchanda, Director- AYUSH, Government of Delhi delivered a special address at the occasion and extended his sincere thanks to the health workers and said that we as a society will never forget the supreme sacrifice made by them.
Speaking on the occasion, Prabhat Labh, CEO of Grameen Foundation for Social Impact narrated the heroic stories of some of these COVID warriors, and spoke about the efforts to support the families of the deceased health. He said that the book 'जो लौट के घर ना आये' is an effort to document these stories of heroism so that we as a society can never forget that we stand here today because someone made the supreme sacrifice to help and serve us.
The event witnessed participation of representatives from renowned healthcare organizations like Trained Nurses' Association of India (TNAI). Ms. Evelyn P. Kannan, Secretary General, TNAI shared her reflections on how courageously their association and other healthcare and frontline workers stood behind the patients and the affected families fighting the pandemic and paid their homage to the COVID Warriors.
The family members of some of the deceased healthcare workers present at the event also narrated the stories of courage and valor of the COVID Warriors and the ordeal they went through, coming to terms with the loss of their loved ones.
About MetLife Foundation
At MetLife Foundation, we are committed to driving inclusive economic mobility for underserved and underrepresented communities around the world. We collaborate with non-profit organizations and provide grants aligned to three strategic focus areas – economic inclusion, financial health and resilient communities – while engaging MetLife employee volunteers to help drive impact. MetLife Foundation was established in 1976 to continue MetLife's long tradition of corporate contributions and community involvement. Since 1976, MetLife Foundation has contributed over $900 million to strengthen communities where MetLife has a presence.
To learn more about MetLife Foundation, visit www.MetLife.org
About Grameen Foundation for Social Impact (GFSI)
Grameen Foundation for Social Impact (GFSI or Grameen), is a not-for-profit organization, registered under Section 8 of the Indian Companies Act 2013. Grameen's mission is to enable the poor, especially women, to create a world without poverty and hunger. Grameen is a leading social impact organisation working in the domains of Digital Financial Inclusion, Women's Economic Empowerment, Health and Nutrition and Agriculture based livelihoods.
For media enquiries, please contact
Tarun Kumar
Senior Manager – Digital Marketing and Communications
Email: TKumar@GrameenFoundation.in
Phone: +91 98731 65382